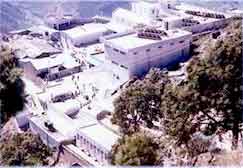 Around 500 meters from Indraprasth is Adikuwari located at an altitude of 4800 feet. One can get the first glimpse of the fluttering flag on top and can hear continuous announcements from the announcement booth much earlier. Adikuwari is the half way spot of the entire trek as it is situated at a distance of 6 kilometers from Katra, on the main track. This is one of the most important Darshans on the visit, second only to the main Darshans at the Holy Cave, which is still 6 kilometers from this place.

The term Adikuwari is believed to have come from Adikuwari, which means 'The Eternal Virgin'. At this spot,' according to the legend, Mata Vaishno Devi Ji had observed spiritual discipline (Tapasya) for nine months in a small womb shaped cave. When Vaishnavi, in the form of a small girl, disappeared from the Bandara organized by Pandit Shridhar, She halted at Banganga and Charan Paduka. From there she reached Adikuwari, where in this particular cave, She meditated for nine long months. The exact spot where She meditated is located at the right hand side inside the cave and is shaped like a womb. When, during Her meditation She realized that Bhairon Nath had approached 125 water points en-route to Bhavan. Water is precious and one should not waste it.

Free Medical and First Aid : First aid is available at strategic places all along the track. Medical dispensaries, health centers, clinics, hospitals, etc. manned by trained professional staff and equipped with all medical facilities are available at Banganga, Charan Paduka, Adikuwari, Sanjhi Chhat and Bhavan.

Free Toilets and Bathrooms : Free toilets and washrooms are located at short distances. They are cleaned at regular intervals and pilgrims would find them to be a refreshing change compared to the toilets at most of the other pilgrim spots. There are more than 80 toilet blocks with about 660 seats en-route to Bhavan.

Vishram Sthals (Resting Places) : Sheds have been constructed at an approximate distance of 500 meters from each other. At most of the places, toilet blocks and Refreshment Units are also situated adjacent to them. Pilgrims can rest and refresh at these spots.

Help and Announcement : All Shrine Board establishments literally double up for help and assistance booths as well. Officials and functionaries posted at these places are always willing to extend a helping hand to the pilgrims. Twenty four hour manned announcement booths are located at Bus Stand (Katra), Banganga, Adikuwari, Himkoti, Sanjhi Chhat and Bhavan.