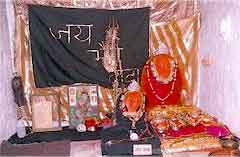 Visitors to the Holy Shrine prefer to return by the new track. However the journey to Shri Mata Vaishno Devi Ji is not considered complete without Darshans at the Bhairon Temple. Legend says that Bhairon was killed by Mata and later upon seeking an apology was granted the boon of being the final link of the Great Pilgrimage.
The Bhairon Temple is located 1.425 kilometers from Bhavan. It is situated atop an adjacent hill and again involves a steep climb, which can be undertaken either on foot or on ponies or palanquins. Steps as well as a concrete track are built till the Bhairon Temple and further it connects to Sanjhi Chhat. This spot is the peak of the climb and is situated at the highest altitude of 6619 feet. All the necessary facilities are also available around Bhairon Temple. After Darshans, instead of returning to Bhavan, one can directly proceed on the onwards track which connects to Sanjhi Chhat. The distance of the track from Bhairon Temple till Sanjhi Chhat is 2 kilometers. A view point named Om is located on this track.
Darshans inside the Bhairon temple are again in a rock form. It is believed that the head of Bhairon had fallen at this place while his body remained at the entrance of the Holy Cave of Shri Mata Vaishno Devi Ji. Thus the rock form is round in the shape of a head and is covered in clothes of black color, while the rock form worshipped as Lord Hanuman is draped in clothes of red color. There is also a Havan Kund at Bhairon Temple. The ashes of this Havan Kund are considered sacred and it is believed that its application or merely keeping it in the house, along with daily Poojan of Bhairon Baba, protects the residents and especially small children from all types of curse, untoward happenings, mysterious\ailments, etc.